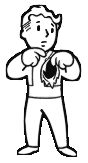 Your heart is back in your body, but some advanced technologies remain: You are more resistant to poison (50%) and robots are only somewhat confused by you (25% less likely to score a critical hit) now. But on the bright side, healing items (chems) are even more effective!
Effect
+50% to poison resistance
-25% chance to get critical hits from robots, and bonus healing with certain items.